Big Board Buys
Dec 6-13, 2023
Ready for good things to come your way?
We're here to make that happen, and to make the process deliciously easy for you. Shop at home, from the comfort of your preferred device. We'll select your produce as if it were for our own tables. We'll pack it like we care, because we do. And we'll rush it to you in a vehicle from our fleet of vehicles, most of which are electric. Add to cart, and you shall receive.
Appetizers: done and done
Crab cakes. Stuffed shrooms. Artisan cheese. Dips & mini bites. Our Own appetizers are always party-ready.
Gift Cards
Smart & thoughtful. Convenient & delicious. There are so many ways to describe a gift card from Town & Country Markets. Give the gift of food people love.
Buy Gift Cards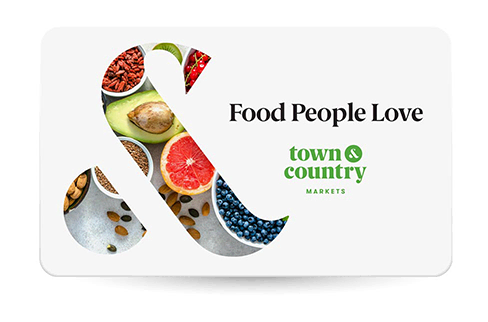 FAQs
Who does my shopping?

Our Personal Shoppers treat each order like it's their own shopping list. They pick the ripest tomatoes, the healthiest lettuce and the gallon of milk with the best expiration date. All your food is carefully bagged –no cracked eggs here! –and properly stored before pickup or delivery.

Help! I need customer service. What's the number and what are the hours?

You can contact a customer service representative by sending us an email or calling us at (206)222-9530 Monday through Friday, 8 a.m.-5 p.m.

Can I use a gift card to make online grocery purchases?

Somebody gave you a gift card?! Lucky you! Just select "Pay Online with Town & Country Markets Gift Card" at checkout. And make sure you apply your gift card first before using a credit or debit card to pay any difference.
See All FAQs