We're always learning, trying new things, and exploring new ideas – sometimes directly from you. Here's where we share the latest.
---
We're All In on Bainbridge Island's Erase-the-Waste Pledge
Dec. 30, 2022
To reduce the environmental impact of our packaging and comply with the City of Bainbridge Island's waste reduction ordinance, we are working to find sustainable packaging alternatives for our prepared food items. That means new packaging is coming soon! Our goals for 2023:
Reduce Plastic and Complete Search for Sustainable Packaging
Replace Single-Use Items, Including Silverware, with Reusables
Lower Environmental Impact
We are currently testing new packaging for our deli, espresso, bakery, and fresh prep produce. We plan to transition our prepared food packaging to bio-based material that will break down in a home compost, too.
---
T&C "Sweetness of Summer" Pie Giveaway
August 17, 2022
To celebrate the sweetness of summer in its final month, we're giving away one special prize to three lucky winners to help celebrate the flavors of August:
One Willamette Valley Pie of your choice
One $50 T&C gift card for yummy toppings and pie pairings
Open to U.S. residents 18+ only. The giveaway closes on August 25, 2022, at 11:59 p.m. *Winners will pick up the giveaway basket at their preferred T&C locations.*
---
Get Fired Up for Live Hatch Chile Roasts
August 15, 2022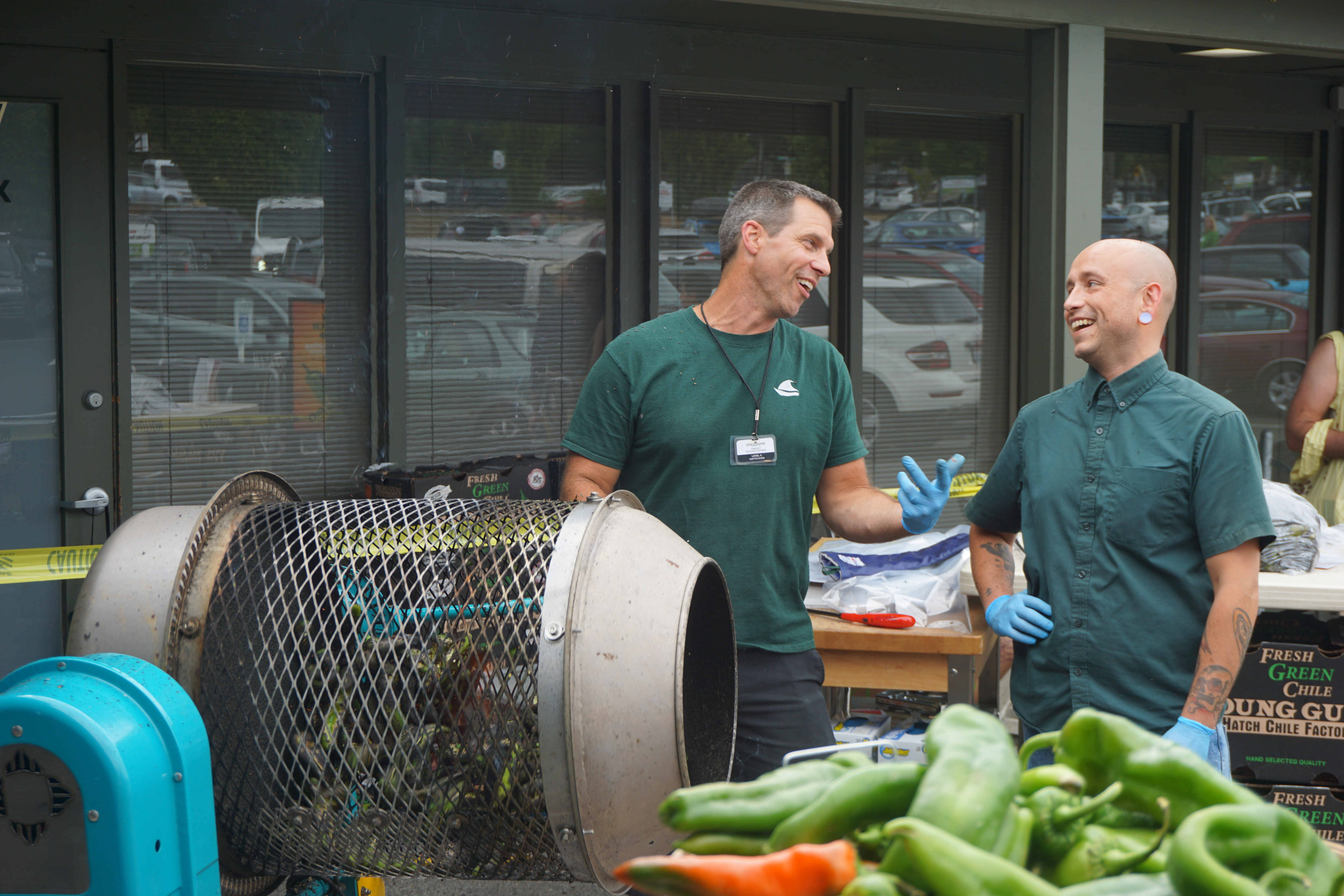 Catch the Hatch craze! We're roasting fresh New Mexican Hatch chiles LIVE and IN-PERSON at four T&C locations this weekend, Aug. 20-21 (see info below). It's your only chance to get fresh roasted Hatch chiles while they're still in season. Add their smoky, earthy flavor to salsas, burgers, chicken dishes, soups, stews, cornbread and more. Mild and Hot varieties available. Try them for yourself and see what the buzz is all about.
Can't make it to the market? Order online until Aug. 23 and get that Southwest-style flavor delivered to your doorstep. Not sure how to cook with Hatch chiles? Check out this Hatch Green Chile Stew.
Follow us on Facebook and Instagram for updates!
Saturday Only, Aug. 20
9 am – 3 pm*
Saturday and Sunday, Aug. 20-21
9 am – 3 pm*
Mill Creek
Shoreline
Poulsbo
*While supplies last.
---
All-Electric Grocery Delivery Now Available
April 11, 2022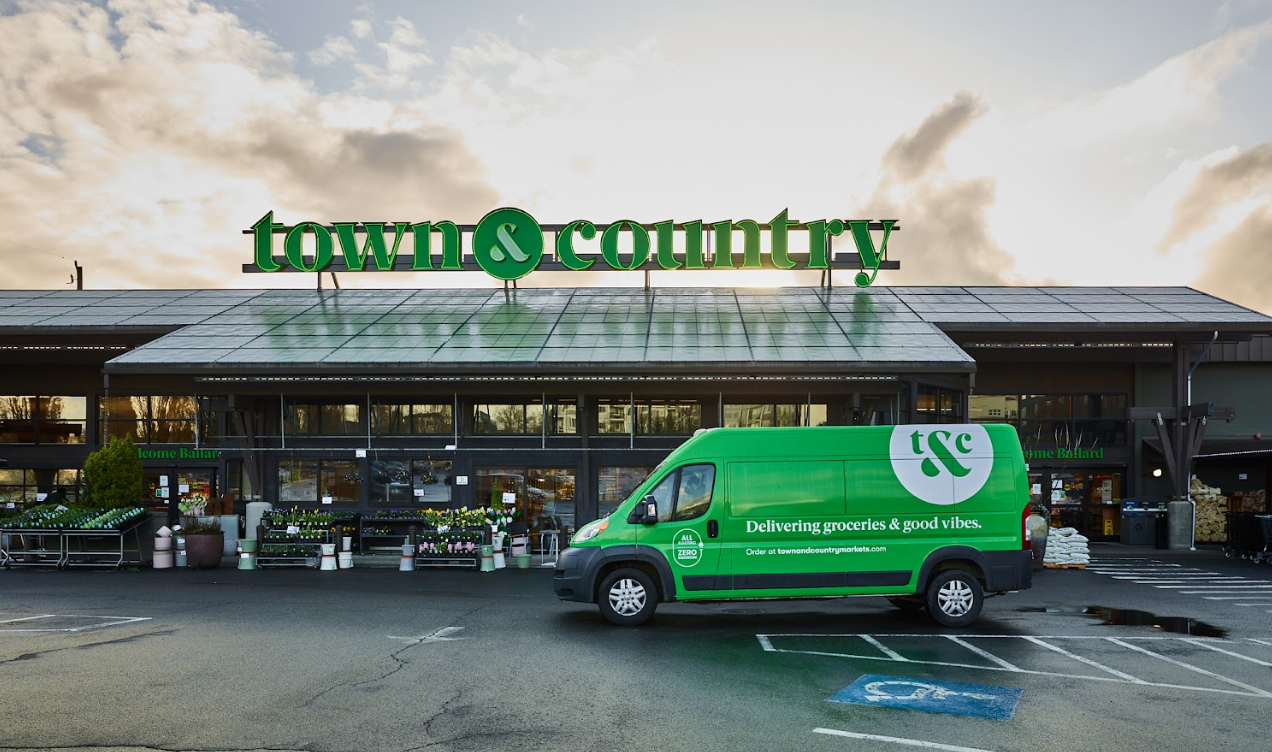 Upgrading from fossil fuels to sustainable energy isn't just smart business … it looks good, too. We've partnered with Bainbridge Island-based travel company PacWesty to bring all-electric grocery delivery to Bainbridge Island, Poulsbo, Shoreline, Lakemont and Ballard customers. (Coming soon to Mill Creek.)
Simply select the home delivery option while ordering online with us to get your favorite foods directly to your doorstep. We're proud to be among the first companies in Washington State to use zero-emission vehicles. We've delivered more than 150,000 bags of groceries and saved about 49 metric tons of C02 emissions so far.
Check out what others are saying:
---
Masks Optional for Customers & Employees
March 11, 2022
Beginning tomorrow, March 12, we will no longer require customers, employees or vendors to wear masks inside our markets and request all community members to respect the personal decision of others wearing or foregoing them. Safety remains our top priority and we will continue to follow the guidance from state and local health officials, which does mean we may require face coverings again down the road.
It's been a hectic two years adjusting to this virus. Our sincere gratitude to everyone for continuing to work together to keep each other as safe as possible.
---
The Sweetest Valentine's Day Giveaway
February 1, 2022
We're excited to launch our sweetest giveaway yet!
To celebrate Valentine's Day, we've partnered with Hot Cakes to treat one lucky winner to a super sweet prize. The winner will receive a $50 Hot Cakes cafe gift card, 4 Hot Cakes, a $100 T&C gift card, bubble bath from EO Products, hand cream from A La Maison Soaps, and a candle from Soap & Paper Factory.
Open to U.S. residents 18+ only. Giveaway closes on Feb. 9, 2022 at 11:59 p.m.
---
Town & Country Markets Holiday Giveaway
December 1, 2021
The holidays are a season of gratitude and we want to say thank you for being a customer with a holiday GIVEAWAY.
One lucky winner will receive a gift basket filled to the brim with seasonal favorites, including a $50 T&C Gift Card, Daelmans Stroopwafel Cookies, pasta or quiche from Carso's in Seattle, aromatherapy from Soap & Paper Factory, Big Dipper beeswax candles, Fran's sea salt caramels, and premium oil, vinegar and spices from Bulk Foods.
Open to U.S. residents 18+ only. Giveaway closes on Dec. 5, 2021 at 11:59 p.m.
---
Inside the Local Media Buzz Around T&C Markets
Nov. 8, 2021
Our company's return to our Town & Country Markets roots has caught the attention of several Puget Sound media outlets. Get a quick snapshot of what the news is saying about our market renovations, expanded eating areas, delicious in-market eating experiences and more in the links below:
Kitsap Sun: Poulsbo's Central Market is getting a new name next year
Seattle PI: Seattle-area grocers Ballard Market, Central Market to change names
Seattle Met: New Name for Several Longtime Local Supermarkets
Puget Sound Business Journal: T&C Markets unite under one name to compete with other high-end grocers
425 Magazine: Town & Country Markets Continue Updates, Expansion, and Addition of New Features
---
New Chapter for T&C Sushi
November 6, 2021
Earlier this year, we learned that our two long-term sushi vendors, Sushi Ko, which operates as a separate business in our Bainbridge and Poulsbo markets; and Sushi Fuku, which operates in our Mill Creek and Shoreline markets, are stepping away from their operations.
---
Town & Country Markets and Tom Douglas Rub with Love Giveaway
October 6, 2021
We're excited to partner with Tom Douglas' @rubwithlove for a fun giveaway. Six lucky winners will receive a "Rub with Love" Chicken Rub, the secret delicious ingredient in Tom's famous Chicken Sandwich.
Open to U.S. residents 18+ only. The giveaway closes on Oct. 11, 2021 at 11:59 p.m.
---
Masks Required
August 23, 2021
As per the new statewide mandate effective Aug. 23, masks must be worn in indoor public spaces regardless of vaccination status.
A few weeks ago we started requiring our employees to put their masks back on as the Delta variant has been spreading. Now we are also requiring customers to wear masks as mandated by the governor's office.
Our company's leaders are watching for further guidance from the CDC and local and state health officials to determine if we need to make any further changes in our commitment to protect our communities. If and when we make any other operational changes, we'll keep you up-to-date on this page.
Thank you to our employees and communities for continuing to do their best to keep everyone safe.